How automatic door mechanisms work
How do these doors know to open as you approach?
There's nothing more welcoming than a door opening for you. Without the need to be touched to open or close, automatic doors are essential in improving disabled access to buildings, facilitating hygiene in required areas and helping provide general convenience to commercial buildings.
Self-sliding doors began to emerge as a commercial product in 1960 after being invented six years previously by Americans Dee Horton and Lew Hewitt. They started out as a novelty feature, but as their use has grown their benefits have extended within our technologically advanced world. Particularly useful in busy locations or during times of emergency, the doors act as crowd management by reducing the obstacles put in peoples' way. They give us one less thing to tackle during daily life and the occasional quick escape.
As well as making access both in and out of buildings easier for people, the difference in the way many of these doors open helps reduce the total area occupied by them. Automatic doors often open to the side, with the panels sliding across one another. Replacing swing doors, these allow smaller buildings to maximise the usable space inside without the need to clear the way for a large, protruding door. There are many different types of automatic door, with each relying on specific signals to tell them when to open. Although these methods differ, the main principles remain the same.
Each automatic door system analyses the light, sound, weight or movement in their vicinity as a signal to open. Sensor types are chosen to complement the different environments they are needed in. For example, a busy street might not suit a motion-sensored door, as it would constantly be opening for passers-by. A pressure-sensitive mat would be more appropriate to limit the surveyed area.
How different sensors work
Everything that emits heat gives off infrared radiation, and it is the job of these sensors to detect it. Using infrared rather than movement makes the system suitable for detecting the heat of human bodies over other objects. Active systems give off and receive the wavelengths, differing from passive systems, which only receive.
Microwave sensors use electromagnetic radiation to detect any moving objects. Not only can they open when they sense movement, using microwaves means that the direction of travel can be pinpointed for improved accuracy.
Using both infrared and microwave technology increases the volume of data captured by the door. The combination of the two systems helps to improve accuracy and effectiveness, limiting the chances of standing in front of a door that won't budge.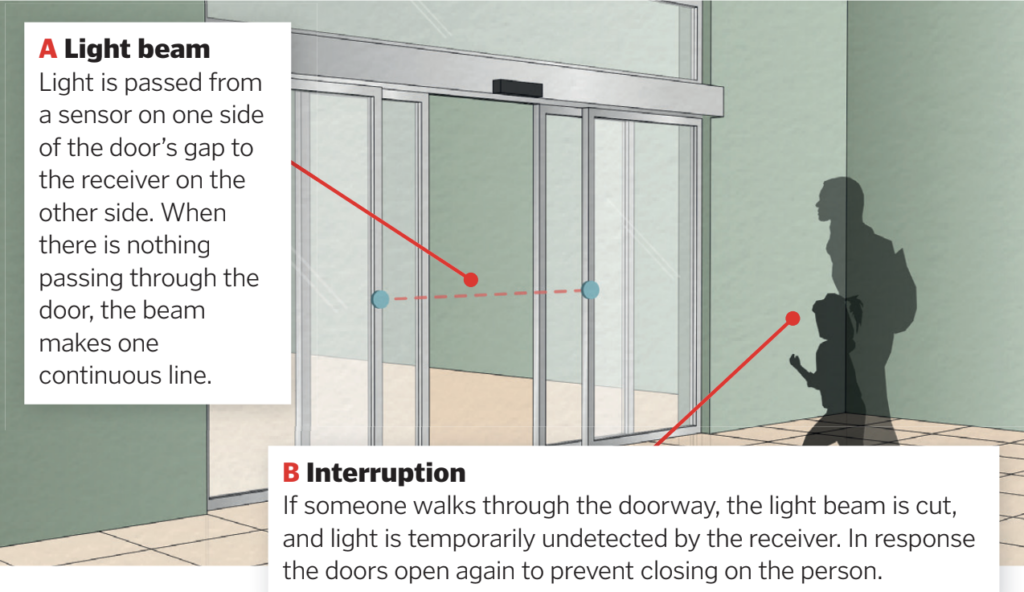 This is one of the simpler automatic door mechanisms. Consisting of a beam of light, this acts as a safety feature, ensuring that the coast is clear when the door begins to return to its closed position.
---
For more science and technology articles, pick up the latest copy of How It Works from all good retailers or from our website now. If you have a tablet or smartphone, you can also download the digital version onto your iOS or Android device. To make sure you never miss an issue of How It Works magazine, subscribe today!